Art Fiesta Fun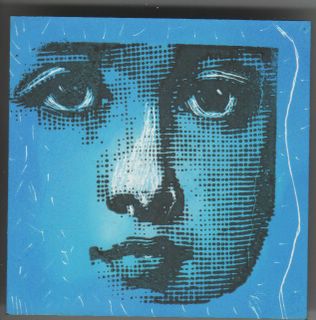 Stampboard Pin Made At Art Fiesta

Kristi and I had a great time at Art Fiesta, although we both agreed that last year seemed bigger, with more vendors. But maybe it was the fact that it was held at a bigger place and so the vendors were more spread out.
I was disappointed that Stampland didn't make it to the convention. They sell Marvy Matchable Ink Pads and I had hoped to buy some stamp pads and reinkers.
Oh well!! I did get some other great stuff. I bought 12 new colors of Twinkling H20s. One set can be used for flesh tones. I'm planning on doing "Faces" as a theme for a postcard swap on the Raw Art Yahoo! Group next month so these will be great for that. I bought watercolor paper that I can cut to postcard size too.
Also, I bought a set of Stampboard which has a clay finish on it. In the pin I made above, I used a direct-to-paper technique to apply the first layer of ink. Then I used Color Box Tool with foam pads to apply the remaining darker blue inks. The face is stamped in black. Then I went back in with a pointed tool to scrap out the white areas to give it depth. The Stampboard is made specifically do be able to do this. It is made by the same company that makes Clayboard for artists. Stamp Anontio had several make-and-take project areas and this was by far the most fun.
They also had a bottle cap make-and-take, where you used a 1-inch round punch to punch out a picture. You put that in the bottle cap and fill with Diamond Glaze. Easy and fun!!!
Finally, I made a Christmas Themed Tag from shipping tags. I plan on using this in a Holiday theme altered book I'm working on this month in an Altered Book Round Robin.
We stopped at Herbert's Taco Hut in San Marcos for lunch on the way back home. Mmmmm! Chicken Taco Dinner, my favorite. But now I need a nap!!